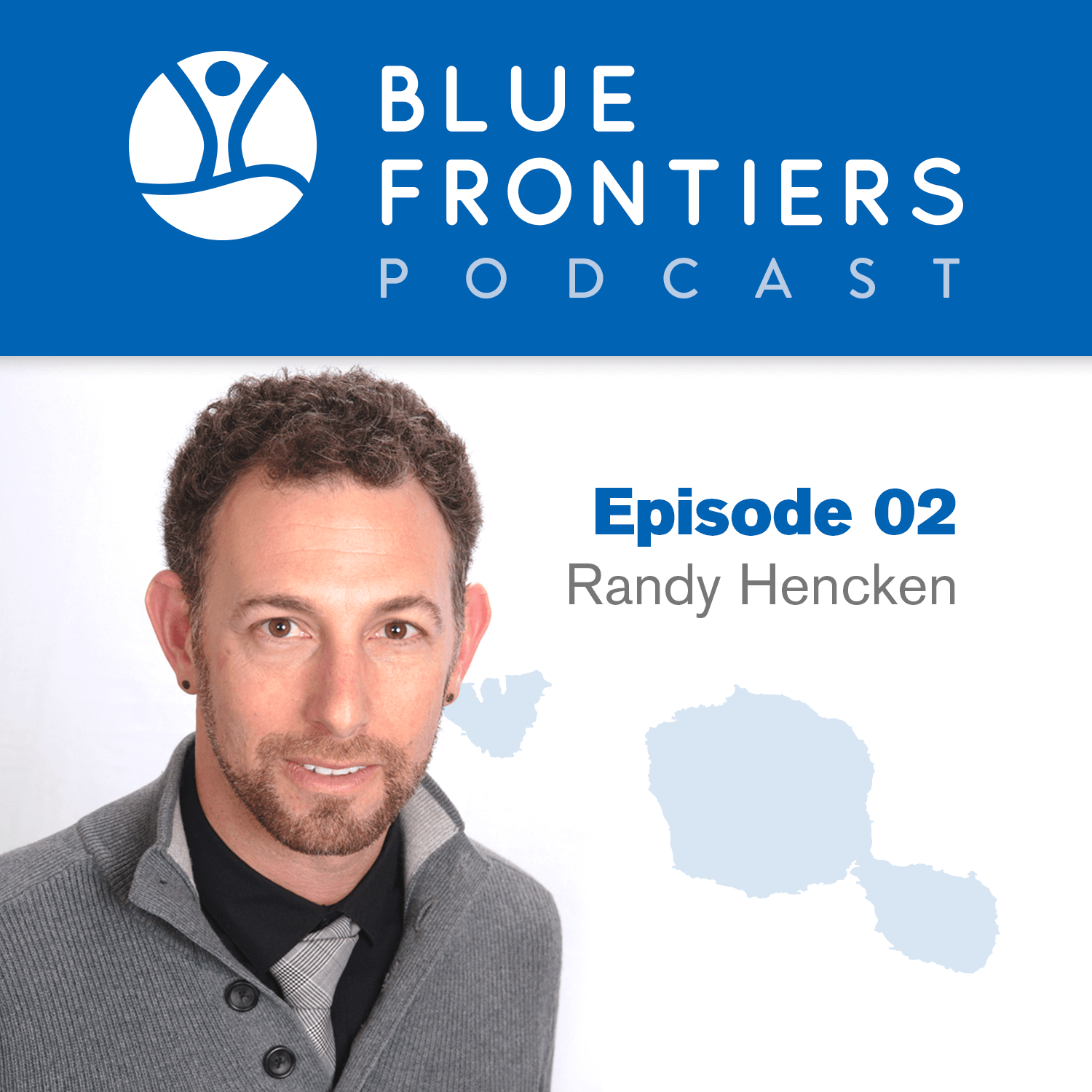 This is the founders series of the Blue Frontiers Podcast. Today we have Randy Hencken, managing director and co-founder of blue frontiers. In this podcast, Randy tells the story of all the previous seasteading attempts that were necessary to reach the point where we are now, after having signed an agreement with a national government to build the Floating Island Project.   
Introduction to Randy & Seasteading [00:00]
Randy Hencken is the co-founder and managing director of Blue Frontiers as well as managing director of the seasteading institute which is the non-profit company that is building the floating island project. Randy started in 2011 and within a year became the executive director and for complicated, legal reasons – is now the managing director.
Seasteading is a plan to develop new communities, new cities and new nations at sea that float and are modular, can grow organically and allow people opportunities to explore new forms of society that cannot exist in land based communities.
Birth of the name for "Blue Frontiers" and it being a non-profit [03:20]
                  Nathalie and Randy talk about "Blue Frontiers" being a non-profit that has somehow gotten funding despite the large sums of money required for the project. They explain that the name "Blue Frontiers was thought of by another co-founder Ian Raijicov who wanted to stress the opportunity the sea possesses.
Peter Thiel [14:04]
Randy explains that Peter Thiel is the man that invested the initial funding but it is not his only investment – Peter has invested in hundreds if not thousands of projects and he is the ultimate venture capitalist.
..and in 2008 a friend of Peter's invited Patrick to come over for lunch and tell Peter about sea setting and at that meeting Peter said this is a great idea I want you to pursue it and he pulled out his cheque book and gave Patrick a $500 000 cheque and said I want you a non-profit  and explore whether seasteading could be a reality or not (16:30)
Club Stead [08:24]
Randy mentions that it has been nine years since the seasteading institute was created and briefly alludes to Blue Sea – another project that's a part of Club Stead. Blue Sea was a project that was canceled due to its exorbitant costs required to build a submersible hotel that would float steadily off the coast of Southern California.
Well to construct one alone is going to be about a hundred and but about 200 million dollars to build it and you have to do operations of it and then you would have to anchor it and then you would have to you know maintain it and oil rigs are made to last for about 20 years before they come out the sea you know rust out so yeah [10:40]
Seasteading events and parties! [11:10]
The Seasteading Institute started an event back in 2009 or 2010 – a party to encourage the future of seasteading and basically get people excited about seasteading. He explains that the idea was to start small up in Sacramento delta – get a bunch of plie woods and barrels that construct floating platforms together! The platforms would then eventually come out to the San Francisco bay and move into the open ocean. For a long weekend party – people dressed up like pirates etc.
They discuss that event is still happening to this day. People actually own big giant barges that they rebuild and change every year – the whole thing is very interesting, actually. You could even get your own silent island with no music or go to the party island if you're into that kind of stuff! There was also even a casino! It is indescribably fascinating how such an amazing thing is yet to be explored by a big chunk of people.
Randy's decision to start focusing on international waters [15:15]
Nathalie and Randy discuss the Charter City movement. It's a start-up-city movement and the idea for this movement is that they give you a section of land and you can import new rules on it. I've seen people get really attached to their land and believe in it with great aspirations. But taking it out into the ocean is a bigger problem because you need a lot of supplies for that and it's hard not to violate some countries customs. That's why The Seastead Institute started collaborating with our partners in the Netherlands – they have a company that at the time was called Delta Synch and they also started Blue 21 and are now members of Blue Frontiers. Randy then explains that they would need a nation with low violence levels or hurricanes that could destroy what they build at sea – hence why they arrived upon French Polynesia rather than the previous Honduras
and you're going from fantasy to reality is really its very pleasing and it's a testament to being you know to not giving up [21:00]
The synergy between technology and sociology in seasteading [21:14]
Randy speaks with particular passion during this part of the interview. He discusses his role and excitement with the craft.
I'm not doing this for myself I'm doing this because I honestly believe this will be better for the planet if this happens it will be better for humanity and that we don't need everybody to believe us, we don't need that many people to get started there's only room for several hundred at first they'll eventually be room for thousands and you know knowing that we have that backing is what made me you know want to keep pushing forward [22:00]
The spirit of pushing forward [24:28]
Nathalie mentions Randy's wife – they share a common passion that "the people, the people, the people" are most important.
Unfortunately, we live in era where media is bad and media likes to regurgitate things and they write articles without taking the time to interview us and if they do interview us – they misquote us. [26:05]
Randy then elaborates upon his distaste for tribalism – what he believes to be humanities greatest ail.
this is where a lot of people where the liberty movement where involved and I was outnumbered and being exposed to people who once upon a time I pothered and I thought they're crazy they're evil how could they possibly believe these stuff then I found out you know these are really nice guys, there's a lot of good reason to have these beliefs, these belief isn't any more crazy than these belief over here so being able to be exposed to these different kinds of ideologies allowed me to not feel so attached to one ideology and came back and question about people [27:15]
The "Now" of the Seasteading Institute [30:35]
When asked the question about what is currently happening on the project, Randy first reminisces about how it all came to life starting from Marc contacting them (which can be heard on the previous episode of this podcast) After Marc contacted them, he took them on a tour where they explored Tahiti, they explored Raiatea, went to Bora Bora, to Mo'orea where they met with a bunch of different influential people. They also went to the Gump Station and met with researches, with Vice President Rohfritsch and president Fitch.
The technicalities of the project taking place now [33:10]
Nathalie and Randy discuss how they worked on a memorable understanding together so they could understand what the country wants from them and what they want from the country. H explains that they were doing many different investigations: environmental assessment, economic impact, legal research, and tax issues.
Randy recalls a conference from May 2017 – they brought a 100 people from around the world to participate in a conference as a volunteer job and they got deeply invested and engaged in the project as if it was their own. He says that Tahiti is a great place with tame weather and blustering culture.
But there's something else about this place and the real reason we're here I think now is that it's just the best place in the planet its they talk about the mana, the place has an energy and coming to realize what pulled us here. Did we choose this place or did it choose us? [37:00]
Bitcoins and the attraction of business on the floating island [36:14]
Randy talks about how he actually hosted a workshop with Rav, the creator of Zencash, and they had a small group where they covered ICO and Bitcoin and educated people about its benefits. He continues that many people, not only want to be invested in Ocean research – but just want to have a theater on the island, a bar on the island, an exceptional community on the island and people are really attracted to that.
Seasteading Growth Plans
What Randy would love to see ten years from now is that the project is widely successful, the floating island's population is well over three hundred people and they are in thousands! So much that they can fill as much as possible without having a negative impact. He also wants to see that they can start building these islands cheaper and all over the world, not just in Tahiti. It's a hard thing to tackle but Randy is optimistic especially with the ecological needs.
I'd like to get up in the morning and be around amazing people who would do some yoga with me or maybe kit surfing [46:00]
Conclusion [47:21]
Nathalie and Randy say their "Chaos" and thank eachother for a wonderful conversation on a fascinating topic.